Boxer (1 Review)
Theme
Minifigures
    Series 5
Shop@Home Description:
The Boxer's fancy footwork and lightning-fast fists have earned him fans all over the world – but his biggest fan of all is the Boxer! He's convinced that he'll be the best professional prize fighter in the world one day, and his current winning streak suggests that he just might be right.

The Boxer has defeated every opponent he's faced in the ring so far, and he's always looking for the next big challenge. He was even hoping to box a kangaroo until he was told that was only something that happened in cartoons. He's convinced that if science would just invent the perfect cloning machine, he could finally box against the one person who could give him a tough match: himself!

View more information...
Reviews

TheYellowNinja
Country: USA     Age Group: Teen   Gender: Male


Joined: January,2nd 2012  

№ of Reviews: 2  
№ of Featured reviews: 0


Building Experience: Expert
---
Packaging
The
Boxer
from
8805 Minifigures Series 5
comes in a light blue LEGO minifigure packet. You can't see through it so do don't know if you'll get the Boxer or the 15 other minifigures in series 5.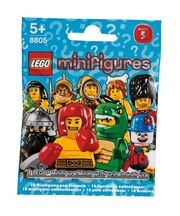 The instuctions that comes with him is a really a little checklist. The Boxer is number 13 on the checklist.
Parts
The Boxer comes with 5 parts. A new printed torso, new printed legs, a normal minifigure head that is double sided, a new boxer headgear mold and a black LEGO minifigure display stand.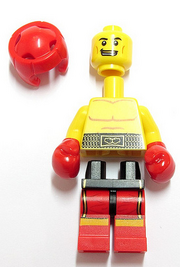 The Completed Set
A nice minifigure really like the new pieces. Goes along well with the Super Wrestler from series 1. Wrestling match!
Summary
Awesome set(not really one). I reccommend picking one up if possible. Don't think you can find them in stores anymore though. $3 isn't to much to pay for a high quality figure.
Rating
| | |
| --- | --- |
| Price: | 4 / 5 |
| Overall: | 4 / 5 |

Klagoer
Country: U.S.A.     Age Group: Teenage Fan of LEGO   Gender: Male


Joined: March 30, 2011  

№ of Reviews: 22  
№ of Featured reviews: 1


Building Experience: Expert
---
When I got the Boxer as a present I was very thrilled and excited. The Boxer has great design with the doubled sided head and the new glove to replace the hands. He comes with a new exclusive headgear piece that is resembling a boxing helmet that is very nice to work with as well as he comew with a new type of hand in the form of gloves. These gloves can be taken off and used for other minifigures which is as well a nice touch.
Overall, this is a great minifigure that I would highly recommend to anyone. This is one AWESOME minifigure!
| Value for Money: | 5 / 5 | Quality: | 4½ / 5 | Overall: | 4½ / 5 |
| --- | --- | --- | --- | --- | --- |