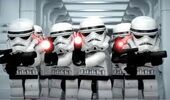 Animal Crossing Leader
Country: Canada     Age Group: Teenager   Gender: Male


Joined: May 22, 2011  

№ of Reviews: 3  
№ of Featured reviews: 0


Building Experience: Enough
---

---
LEGO Batman: The Videogame was the first LEGO game I had decided to pre-order, and the only one I had for two different consoles. Overall the game is pretty good, though there are many flaws in it.
Cost
I pre-ordered this game for the Wii, just to get the small little Batman keychain. It was not worth it, especially at the $50 (CAD) cost. Though I did get the game later with my Xbox 360, as it came with it, and cost an extra $10, along with the system also coming with the game Pure.
Manual and Box
The boxart for LEGO games are, in my opinion, not the best. And the instruction manuals suck. The boxart is pretty good though, having the many villains and Batman and Robin on rooftops, though I was sad that Clayface was nowhere to be seen. The instruction manual is terrible, stating several mistakes like "watch out for blue sparks on magnetic walls" (which all magnetic walls have) and the fact that it only mentions two villain powers.
Playability and Replaying
The game was short. That's all there is. I found that the levels could've been made longer and more fun, like LEGO Star Wars' levels. The one thing that I hate is the fact that there are the 100 or some people being beat up, and you have to find them all to unlock Ra's Al Ghul and Hush. Although, I do keep playing it because it's a LEGO game, it has many puzzles and the minikits and red bricks are hidden very well. The different suit thing is lame though, with only the Glide Suit being cool.
Characters
How come there are, like 50 playable characters exclusive to the DS version? Just because of that, I give it a 2. I don't want to play as janitors, police officers or ugly goons (though those Penguin goon-robot things are cool) and makes the game even worse. I actually can't wait for LEGO Batman 2, just because the rest of the Justice League will be in it.
Graphics
I don't care about graphics, as I don't think they make a good game. Automatically, it's a 4. It would be pretty good if the backgrounds for the levels were MADE OF LEGO! Though, I don't care.
Other Notes
I would've liked the game more if there were missions where you could play as Batgirl, Nightshade, Mad Hatter and Man Bat. I would also have liked to go and beat Scarecrow up, without a plane.
| | |
| --- | --- |
| Cost: | 3 / 5 |
| Manual and Box: | 1 / 5 |
| Playability and Replaying: | 3 / 5 |
| Characters: | 2 / 5 |
| Graphics: | 4 / 5 |
| Overall: | 3 / 5 |