TheYellowNinja
Country: USA     Age Group: Teen   Gender: Male


Joined: January,2nd 2012  

№ of Reviews: 2  
№ of Featured reviews: 0


Building Experience: Expert
---
Packaging
The
Lizard Man
from
8805 Minifigures Series 5
comes in a light blue LEGO minifigure packet. You can't see through it so do don't know if you'll get the Lizard Man or the 15 other minifigures in series 5.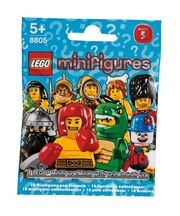 The instuctions that comes with him is a really a little checklist. The Lizard Man is number 6 on the checklist.
Parts
The Lizard Man comes with 6 parts. A torso, legs, a normal minifigure head, a new lizard tail mold, a new lizard head mold and a black LEGO minifigure display stand.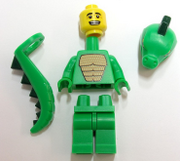 The Completed Set
A nice minifigure really like the new pieces. Goes along well with the Gorilla Suit Guy from series 3. Can you see the Godzilla vs. King Kong?
Summary
Awesome set(not really one). I reccommend picking one up if possible. Don't think you can find them in stores anymore though. $3 isn't to much to pay for a high quality figure.
Rating
| | |
| --- | --- |
| Price: | 4 / 5 |
| Overall: | 4 / 5 |
TheYellowNinja's Reviews
Sets:
Minifigures:
♦ = Featured Review