Legoboy9373
Country: Bulgaria     Age Group: TFOL   Gender: Male

Joined: 18th April, 2012  
№ of Reviews: 3  
№ of Featured reviews: 0


Building Experience: Advanced
---
""Let me know if you see any birds around here!""
―The Scarecrow
Welcome to my review of the Scarecrow from Minifigures Series 11! I got it on September 6, 2013, about five days after the series came out.
The Scarecrow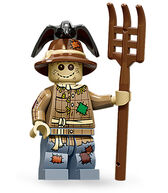 The Scarecrow is a really nice and detailed minifigure which pretty much resembles a real one. I really like that they included the crow, although crows are supposed to be scared of scarecrows. The clothes are like those of a farmer and they just fit on a scarecrow. (duh) The Scarecrow has tan hands, which I think aren't very common. Another nice thing is that they added that really nice arm printing. The little baseplate that all collectable minifigures come with is the same as always, although I think it would be nice to have the figure's name on it (similar to what they did with the Team GB Olympic minifigures).
Overall
Overall, I think this is maybe the best minifigure in this series (my opinion always changes when I get the next one). So here are the ratings:
| Value for Money: | 4 / 5 | Quality: | 5 / 5 | Overall: | 4½ / 5 |
| --- | --- | --- | --- | --- | --- |
Expect more reviews of this series' collectable minifigures to come!
What do you think about this review?
Ad blocker interference detected!
Wikia is a free-to-use site that makes money from advertising. We have a modified experience for viewers using ad blockers

Wikia is not accessible if you've made further modifications. Remove the custom ad blocker rule(s) and the page will load as expected.