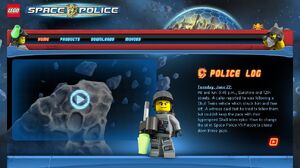 Space Police Stop-motion Videos are videos on LEGO.com to promote the Space Police III line. Beginning in May 2009, there was a short stop-motion teaser trailer up on LEGO.com. Later, it was discovered that there is a series of short stop-motion videos, each showcasing the different criminals, starting with Interrogation to promote the line.
Chapters
Notes
Ad blocker interference detected!
Wikia is a free-to-use site that makes money from advertising. We have a modified experience for viewers using ad blockers

Wikia is not accessible if you've made further modifications. Remove the custom ad blocker rule(s) and the page will load as expected.