Spyrius
Release years:
Main theme:
Colour scheme:
Concurrent faction(s):
Spyrius was a subtheme of LEGO Space in the years 1994-1996, and typically featured sets related to the subjects of space and robotics.
Details
Red and black, with blue cockpits, the Spyrius homeworld was a craggy, desolate planet, which was also called Spyrius. The Spyrius took over the "bad guy" space agency theme as a group of spies out to steal technology and valuable data. Official evidence of a Spyrius attack against Unitron is documented in this 1994 catalog picture.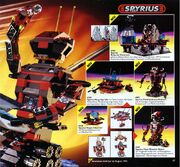 Popular Spyrius vehicles include 6835 Saucer Scout and their largest starcraft, the 6939 Saucer Centurion (both 1994) (which, like the Unitron's Star Hawk II, is smaller than the larger starships of other space agencies). The base was 6959 Lunar Launch Site (1994). The theme also included two robot vehicles, 6889 Recon Robot and 6949 Robo-Guardian (both released in 1994).
Though Spyrius officially ended in 1996, 1954 Surveillance Scooter (1995) was re-released as 3013 Space Jet in 1999.
Notes
Sets
Minifigures
Video(s)
See also