Star Wars Advent Calendar
Theme:
Released:
Play the game:
Star Wars Advent Calendar is an online LEGO.com game. It was released on Dec 1st, 2013. In the game, you control Jango Fett in a red Christmas outfit through the levels. You can upgrade your minifigure by putting the codes in the Advent Calendar set in.
Characters
There are five known players you can be.
Jango Fett
Astromech Droit
Clone Trooper
Geonosion
Battle Droid
Models
As you progress through the levels, you build new models.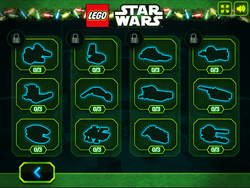 Levels
Every week on the sunday, there is a new level.
Week One: Space Station. In this level, you move Santa Jango around a space station with icicles hanging from the roof.
Week Two: Corusant. In this level, you move Santa Jango around Corusant.
Week Three: Hoth. In this level, you move Santa Jango around Hoth.
Week Four: Tatooine: In this Level, you move Santa Jango around Tatooine.
Controls
You use the standard Up, Down, Left and Right keys to move. 'G' releases a grenade. The space bar fires.
Ad blocker interference detected!
Wikia is a free-to-use site that makes money from advertising. We have a modified experience for viewers using ad blockers

Wikia is not accessible if you've made further modifications. Remove the custom ad blocker rule(s) and the page will load as expected.