TECHNIC Figure
Theme:
Accessories:

Robotic Arm
Wrench

Years:
TECHNIC Figures are figures that appeared in TECHNIC sets, especially from the CyberSlam/Competition line. They were first introduced in 1986 in the Arctic Action line. They are much larger and have several more joints than the standard minifigure, including bendable elbow and knee-joints. Each figure comes already assembled and is not meant to come apart, but parts can be popped off by pulling too hard. They can connect to both standard LEGO System bricks and on TECHNIC parts, and TECHNIC pegs can fit in their hands.
Appearances
See Also
Gallery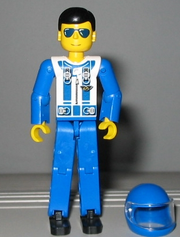 Ad blocker interference detected!
Wikia is a free-to-use site that makes money from advertising. We have a modified experience for viewers using ad blockers

Wikia is not accessible if you've made further modifications. Remove the custom ad blocker rule(s) and the page will load as expected.