Kayak was an exclusive LEGO model at a building event at participating Toys R Us stores on Saturday, October 17, 2015, from 12-2 pm.
Basic Set Information (from instructions)
Ages 6-up
Kayak
18 pieces
2015
Model
The model was a red and light bluish grey kayak, with some accents of black and dark bluish grey. The kayak can seat one minifigure (not included) on its black chair and included a reddish brown oar for the minifigure to use. Otherwise the oar can be placed on two new versions of the dark bluish grey modified tiles with O-shaped clips.
There are no unique colors, elements, prints or stickers included in this model.
The pieces for building the model were bagged by the Toys R Us employees before guests received them. The bags contained the exact quantity of pieces to build the model.
Additional Features
Along with the model was a plastic bag with a zipper lock function to hold its pieces (a standard for Toys R Us building event models), a full-page advertisement for LEGOLand (including a free child admission ticket before it expires on 12/31/2015), and a small booklet of LEGO City-related activities (includes a word search, matching puzzle and wish list of LEGO sets).
The instruction sheet contains 8 steps on two sides of a paper for building the model, as well as an advertisement for a LEGO Star Wars Building Event on Saturday, November 14, at 12-2 pm in Toys R Us stores.
Gallery
Comparison of a minifigure (not included) next to the kayak model.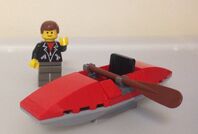 References
Brickset [1] The Brick Fan [2]
Ad blocker interference detected!
Wikia is a free-to-use site that makes money from advertising. We have a modified experience for viewers using ad blockers

Wikia is not accessible if you've made further modifications. Remove the custom ad blocker rule(s) and the page will load as expected.