Thanos
Talk

0
27,472pages on
this wiki

This minifigure has only appeared in video game(s)
Although this article is about an official minifigure, it never existed in physical form, or appeared in any official LEGO sets.
Thanos
Theme:
Years:
Thanos is a Marvel Super Heroes minifigure that appears in LEGO Marvel Super Heroes as a DLC character.
Background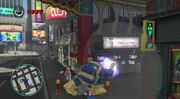 Thanos provided Loki with the Chitauri so he could take over the Earth in exchange for the Infinity Stone known as the Tesseract.
After Loki was defeated, the Other told his master that to attack the Avengers would be to court death. To this, Thanos simply smiled.
Notes
Just like all the Big-Figs except for Hulk, He kills a Big-Fig instantly with his power attack.
Appearances