The name of this set is conjectural.
Although this article is based on an official subject, its actual name is pure conjecture.

This set was created to serve as a clue for contestants on the 19th season of the US reality television show, The Amazing Race.
Description
Edit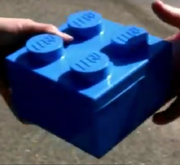 The set features several pieces, most with printed bricks. When assembed, the set forms a rectangular model, one stud deep, with the writing "Hamburg Hbf" on it, along with an image of the Hamburg Central Station. This set was packaged in a plastic container representing a blue 2 x 2 brick. At least five of these sets were produced- one for each team of contestants currently in the race at the time
Background
Edit
Teams had to assemble this clue whilst riding on the Pirate Carousel ride at LEGOLAND Billund, and were only allowed to work on constructing the set when the ride was in motion. Once the clue was assembled, teams could exit the ride, showing the completed clue to the attendant, then continue to their next destination.
Task Descriptions
Edit

This is a description taken from Phil Keoghan. Do not modify it.
---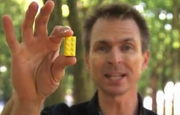 Route info
Teams must now drive to Billund, Denmark, the birthplace of LEGOs, and find the original LEGOLAND park. Once here, they must find the Pirate Carousel ride, where they'll get their next clue.
Task Description
The LEGO Company was created in the 1930's and it now produces over 50 million pieces every day. Teams need to piece these LEGOs together while being spun into a dizzy state and they may only work on the puzzle while the ride is in motion. If they can keep it together, the pieces will reveal their next clue.