The Emmet Awards were a series of monthly contests hosted by the LEGO company for people under 15 years of age. There were five contests from February 2014-July 2014, and there were individual monthly winners but also an overall winner. The awards were held on September 9th, 2014 and it was hosted by Emmet in the Dog at Cloud Cuckoo Land.
Direct Your Own Movie (February)
The goal is to rearrange the scenes by the use of the movie builder app.
Promotion
Nominees:
diglett809
emmet0519 (winner)
JakubK2009
Zodarfi
pottermania
Double Decker (March)
The goal is to build two copies of the same thing from LEGOs and combine them together.
Promotion
Nominees:
ArticHusky (winner)
ENDfilms
TopSecretSpyGuy
Woolfie99
fumichika04
Ordinary to Extraordinary (April)
The goal is to improve on an ordinary LEGO design.
Promotion
Nominees:
edtk421
wizajo1
LegoJaggy
LegoMacNugget
Laughingijb (winner)
Ma and Pa Cop (May)
The goal is to build something special for someone you care.
Promotion
epicninja1
JoshDaVidman (winner)
kzamarski
ramrods22
yop1172
SPACESHIP, SPACESHIP, SPACESHIP (June)
Using your LEGO brick collection build the biggest, wildest most awesome spaceship model you can imagine. But remember—you need a cool pilot and co-pilot in your entry!
Nominees:
Legospacepolice1999 (winner)
Drumdude2011
Timelord121
Tompster11
nmoravetz
Everything is Awesome (July)
Take some old and new movie clips and a version of everything is awesome and make a totally awesome music video.
Nominees:
TheSilverMaraud
percyjackson2001
eroore (winner)
timothy9872
NINDROID3000x
Grand Prize Winner
Other
Be the special
This was a contest for people 16 and older and the goal was to use a LEGO set and create something new.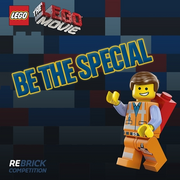 The winners were:
First- Petecorp with Super Cycle Chase Alternative Build
Second- Imagination with Here Are My Pants!
Third- Hoshpup with Ninjago Battle Machine
Links