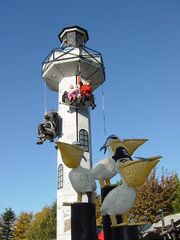 The Lighthouse is an attraction in LEGOLAND Billund.
How high can you get? And how fast? The Lighthouse is a sky-high attraction – and a fantastic chance to test your own strength.
Located in the centre of Pirate Land, the Lighthouse has an amazing view, but it's up to you to come and see it. In this sky-high attraction, it's strength that counts – especially strong arms.
The Lighthouse is lots of fun for all, and a very popular activity for the whole family. Adults are also welcome to give it all they've got!
How high can you get? And how fast? Children gain insight into themselves when they hoist themselves up by their own strength to the LEGO® Lighthouse Keeper and the spectacular view of Pirate Land and Pirate Island. Climbing down again is also fun – and a little challenging.
A word of advice: if you have to queue, you're welcome to a quick sword fight with the pirate who helps you at the Lighthouse.
Did you know that the Lighthouse is an attraction that many adults enjoy just as much as kids do? This is a good place to work together to get as high up as quickly as possible!