The Quest for BrickBeard's Bounty is a LEGO video game.
Description
When you start the game you play through 5 standard levels where you are collecting maps or treasure. Then there is a final level that you steer your boat past obstacles. When you beat the game you can download a free comic.
Notes
The game's title screen has the 1973-1998 LEGO logo instead of the modern version.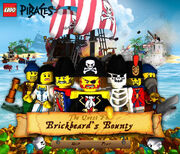 Ad blocker interference detected!
Wikia is a free-to-use site that makes money from advertising. We have a modified experience for viewers using ad blockers

Wikia is not accessible if you've made further modifications. Remove the custom ad blocker rule(s) and the page will load as expected.