Ad blocker interference detected!
Wikia is a free-to-use site that makes money from advertising. We have a modified experience for viewers using ad blockers

Wikia is not accessible if you've made further modifications. Remove the custom ad blocker rule(s) and the page will load as expected.

Traffic is a subtheme of City that was released in 2009.
Description
This theme focuses more on how a real city would be - people camping, going to the pizzeria, a family grilling, and tow trucks fixing cars. This theme was created after several years of rescue-based themes (Fire, Police, and Emergency). More sets are being created, and one of them was the winner of the 2010 Fan Choice. This subtheme focuses on garage and town.
Sets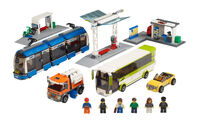 Garage
Town
| | | | | | | |
| --- | --- | --- | --- | --- | --- | --- |
| Image | Item number | Set | Number of pieces | Minifigures | Price | Release |
| | 7639  | Camper  | 165  | 2   | $16.99 / €16.99  | June 2009  |
| | 7641  | City Corner  | 483  | 5   | $59.99 / €49.99  | June 2009  |
| | 7747  | Wind Turbine Transport  | 444  | Truck Driver, Person   | $59.99 / €59.99  | August 2009  |
| | 7993  | Service Station  | 402  | 3   | $39.99 / €37.99  | 2007  |
| | 8398  | BBQ Stand  | 22  | Chef   | $3.49 / €2.99  | 2009  |
| | 8401  | LEGO City Minifigure Collection  | 60  | 4 People   | $9.99 / €8.99  | 2009  |
| | 8402  | Sports Car  | 68  | Person   | $9.99 / €8.99  | January 28, 2009  |
| | 8403  | City House  | 383  | Mom, Dad, Boy   | $39.99 / €39.99  | July 15th, 2010  |
| | 8404  | Public Transport  | 864  | Bus Driver (City), Garbage Truck Driver, Passenger, Bicyclist, Tram Driver, Shop Assistant (2x)   | $99.99 / €99.99  | August 1, 2010  |
| | 30313  | Garbage Truck  | 48  |    | $3.49  | January 2015  |
| | 60016  | Tanker Truck  | 191  | 1   | $19.99 / €19.99  | 2013  |
| | 60017  | Flatbed Truck  | 212  | 2   | $19.99 / €19.99  | 2013  |
| | 60023  | City Starter Set  | 272  |    | $29.99 / €24.99  |   |
| | 60024  | Advent Calendar  | 244  | 8   | $29.99 / €19.99  |   |
| | 60025  | Grand Prix Truck  | 315  | 3   | $29.99 / €29.99  | 2013  |
| | 60026  | Town Square  | 914  | 9   | $119.99 / €99.99  | 2013  |
| | 60027  | Monster Truck Transporter  | 299  | 3   | $29.99 / €29.99  | 2013  |
| | 60050  | Train Station  | 423  | Station Master, Concession Stand Chef, Taxi Driver, Male Passenger, Female Passenger   | $64.99 / €49.99  | 2014  |
| | 60086  | Starter Set  | 242  | Helicopter Pilot, Police Officer, Crook, Firefighter 2× (different types)   | $29.99  | March 2015  |
| | 60097  | City Square  | 1683  |    | $189.99  | May 2015 (UK and US) August 2015  |
See Also