This minifigure has only appeared in video game(s)
Although this article is about an official minifigure, it never existed in physical form, or appeared in any official LEGO sets.
Training Camp
Theme:
Variations:
Years:
The Training Camp is a building in the game Crystalien Conflict. They are chiefly used by humans and can spawn normal humans and engineers. They can be hacked into by Alien Saboteurs and when this happens, the humans spawned fight for the Alien side.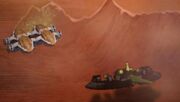 Ad blocker interference detected!
Wikia is a free-to-use site that makes money from advertising. We have a modified experience for viewers using ad blockers

Wikia is not accessible if you've made further modifications. Remove the custom ad blocker rule(s) and the page will load as expected.