Turkey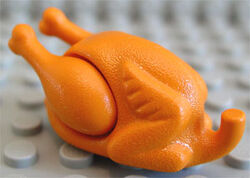 A Turkey is a type of LEGO food. The pieces are an orange-brown shade and are also made out of a rugged plastic material to show that it has been cooked. These pieces were first found in the theme Belville. Later it was put into other themes, like Castle in a Market, and Harry Potter at a feast, though it was a darker colour and might not be completely the right size compared to minifigures, because in 10193 Medieval Market Village, there was also a chicken and rooster, and the Turkey piece is at least 2X larger they are, though turkeys are larger than most fowl. The legs can detach from the turkey's body.
It is made up of Part 33048 and two of Part 33057.
Appearances
This article or section is incomplete.
Please improve the article, or discuss the issue on the talk page.
Ad blocker interference detected!
Wikia is a free-to-use site that makes money from advertising. We have a modified experience for viewers using ad blockers

Wikia is not accessible if you've made further modifications. Remove the custom ad blocker rule(s) and the page will load as expected.