Ultimate Collector's Series
Years

2000-present

Subtheme of
Related themes
The Ultimate Collector's Series, or UCS, is a subtheme of sets. UCS sets are meant to be more detailed and aimed at older builders. These sets do not generally include Minifigures, but since 2007, most have included at least one. Most are also not designed to scale with Minifigures, though there are some cases (such as 75060 Slave I) where the set is completely to scale. Ultimate Collector's Series sets tend to be larger, and more expensive than typical sets. Commonly, Ultimate Collector's Series sets were given a five-digit (10xxx) product number until 2014, when they adopted the 75xxx numbering.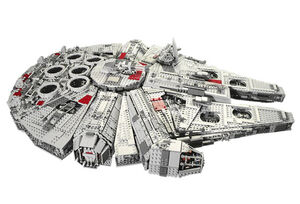 List of Sets
Star Wars
DC
Marvel
Ad blocker interference detected!
Wikia is a free-to-use site that makes money from advertising. We have a modified experience for viewers using ad blockers

Wikia is not accessible if you've made further modifications. Remove the custom ad blocker rule(s) and the page will load as expected.