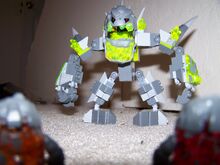 About me
POWER MINERS!!!!!! POWER MINERS!!! POWER MINERS!!! When will Tunnel 13 come out?!?! AHHHHHHHHHH!!!!!!!!!!!!
(I'm still suffering from the discontinuation of the Power Miners theme, and the cancellation of the Tunnel 13 game)
More About Me
Hey, I'm Drew1200! I mainly contribute to the Google Wiki as an administrator and bureaucrat, but I have also participated on many other wikis in the past. You can find a list of wikis that I have contributd to here.
You can find more information about myself and my jobs here on some of my subpages. A list is below.
Other Places You Can Find Me
Important Information
I believe that CJC95 is completely AWESOME!!! CJC95 is like the most epic person on earth, he totally rocks! <poll> Who thinks that CJC95 is completely awesome? I do!!! Of course he is! Duh, he's the awesomest person ever! He's even better than I am! </poll>
Userboxes
CJC95

This user believes the scientific fact that

CJC95

is awesome!

| | |
| --- | --- |
| I'm cool | This user thinks he's cool |






<poll> On a scale of 1 - 137 how high would you rate my epicness? 1 (not an option) 2 3 4 5 6 7 8 9 10 11 12 13 14 15 16 17 18 19 20 21 22 23 24 25 26 27 28 29 30 31 32 33 34 35 36 37 38 39 40 41 42 43 44 45 46 47 48 49 50 51 52 53 54 55 56 57 58 59 60 61 62 63 64 65 66 67 68 69 70 71 72 73 74 75 76 77 78 79 80 81 82 83 84 85 86 87 88 89 90 91 92 93 94 95 96 97 98 99 100 101 102 103 104 105 106 107 108 109 110 111 112 113 114 115 116 117 118 119 120 121 122 123 124 125 126 127 128 129 130 131 132 133 134 135 136 137 </poll>