Power Jim
Welcome

Guest!

!
Hey! I'm Power Jim and welcome to my profile page. I am a chat-mod and regularly on Brickipedia, I'm also partially running the Custom Cadets. Come and join if wish. Also yes, I build customs and I'm a friendly user and have been here a while so feel free to ask me questions related to LEGO or Brickipedia on my talk page. Please feel free to browse around!
Power Jim
[[File: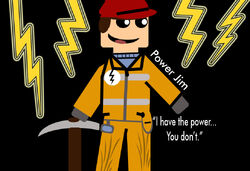 |250px]]
Working Projects (aka Customs)
• Seatron 2 (Sequels name still in-the-works) 80% done
Latest Set(s)
Set(s) wanted
Signature archive
-- Power Jim
Power Jim Talk Embrace the power!
Power Jim Talk Blogz09:39, 3/5/2012 (current signature)
0pxembed/7jVVVdiKl7U1
My favorite sites
www.Lego.com
www.Brickipedia.com
Power miners wiki
Lego/Power Miners.com
Lego/Alien Conquest.com
Userboxes
Awards