Gold Brick

Queen Julien of Madagascar has awarded you a Gold Brick! Gold Bricks are awards given by users to other users for all their hard work. Great job!

You can copy the code for this Gold Brick and add it to your userpage.

Queen Julien of Madagascar also added the following comment: For being helpful and friendly
Sean the brick boy
Name:

Sean the brick boy

Age:

14

Nationality:

New Zealand

Template:User lego

| | |
| --- | --- |
| | This user is a Teenage Fan of LEGO. |

{

| | |
| --- | --- |
| R | This user joined The Reparo Project. |

| | |
| --- | --- |
| | This user hopes that LEGO will create a Doctor Who theme. |
ABOUT ME
Hi I am Sean the brick boy and my favorate LEGO set is 4842 Hogwarts Castle. I like creating pages so that people can find out more about LEGO. At the moment my main objective is the Reparo project. I also think that a LEGO Justice League Watchtower would be a realy cool set and that it should come with Superman, Batman, The Flash, Greenlanturn, wonder woman, Martian Manhuntur, Cyborg and Hawkgirl, I also think that it should come with Brainiac in a space ship. I have created heaps of MOCs. My signature is:

Sean the brick boy Talk 627 Edits! :-)
NOTEIf any one has a Greenlarnturn minifigure that they would sell me please tell me and we can work out what to do.
DOCTOR WHO LEGO
I think that Doctor who LEGO would be realy cool so I made my own TARDIS
set
. If you think Doctor who LEGO should be made click
EDIT
then copy and paste this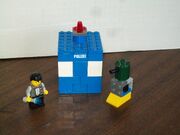 | | |
| --- | --- |
| | This user hopes that LEGO will create a Doctor Who theme. |
some-where on your page than put your signature
HERE
---

Sean the brick boy Talk 627 Edits! :-)
--Jerome the LEGO Leader 22:01, October 13, 2011 (UTC)
--Queen Julien of Madagascar 04:40, September 2, 2011 (UTC)
--Mort333 05:39, September 4, 2011 (UTC)
---