Confirmed With Official Images
Feel free to remind me about any I forgot! Star Wars - Now Confirmed (Prelim) Hero Factory - Now Confirmed (Prelim) Ninjago - Now Confirmed (Prelim) Friends - Now Confirmed (Prelim) Creator - Now Confirmed (Prelim) Super Heroes Action Figures - Now Confirmed (Prelim) Collectable Minifig Series 6 - Now Confirmed (Prelim) Dino - Now Confirmed (Prelim) Super Heroes (Marvel and DC) Sets - Mostly Confirmed (Marvel is still in Prelim)
So, now what?
Okay.... now what? Well, what do you think about these sets?
Star Wars
Wow. It looks like 2012 will be a great year for Star Wars! Those planet-shaped containers look like a great purchase if you're building an army.
Hero Factory
Wow, just wow. The heroes went from Disappointing to Good to Better to HUGE IMPROVEMENT. Good change, but the main villain is worse (In build) than Fire Lord. What a disappointment! Witch Doctor was great, however this guy flat out stinks. The other villains look good. I think that even this looks better than Black Phantom: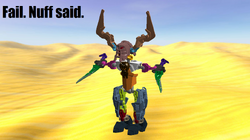 Ninjago
Still insane. Snakes? Flying Boats? Modern Technology? Lloyd? LOL!
Friends
I'm sure this will be the best theme ever. =P
Creator
Same as most years. Dinosaurs... Cars... This is actually the least creative theme...
Super Heroes Ultra-Build (Action Figures)
No Marvel villains? I hope there will be...! It won't be a very good theme without an enemy. DC has one villain announced, so far (Joker), and he looks a little skimpy. The only good thing would be the parts. The sets aren't too good... I guess we'll have to see what the younger fans say.
Collectable Minifigs Series 6
Best series yet. The minotaur needs some eye printing, though.
Dino
It's just a mix of Dino 2010 and Jurassic Park, basically. The minifigures don't look too great.
Super Heroes (Sets)
I haven't seen any images, but they sound fair. Some sets haven't been named yet. We'll have to wait an see.
Ad blocker interference detected!
Wikia is a free-to-use site that makes money from advertising. We have a modified experience for viewers using ad blockers

Wikia is not accessible if you've made further modifications. Remove the custom ad blocker rule(s) and the page will load as expected.