---
---
BTF: Best Theme Forever!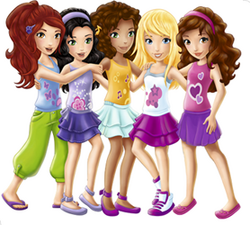 Source(s): Brickset
Author:Berrybrick
I know that a lot of you were disappointed with the news in the last news blog, but I promise that this won't disappoint, even with only one article (it could have had two, but this would by far overshadow the boring Lord of the Rings miniseries).
Friends, family, countrymen; on this day, July 28, 2012 what is possibly the best LEGO related news ever has surfaced. About 34 years ago, three themes were introduced which have stood to present day (with a few pauses of course), Town (now City), Space, and Castle. It looks like we may have another one on our hands.
Can you guess what it is? It's not Ninjago or even Hero Factory or Super Heroes. It's Friends!
An article from Toy News Trade magazine states that Friends has sold twice as well as was expected, and I'm sure that LEGO was expecting high sales with the huge first wave and years of research. It's also passed Sylvanian families in terms of sales. What's next? Bratz? (I personally don't think so, Bratz has evil Russian Choreographers.)
According to this quote I took from KoN who took it from the UK Managing Director, Friends is so successful that it will "...be with us for years and decades to come."
It looks like when the girls say that they are BFFs, they aren't kidding! :D
---
Ad blocker interference detected!
Wikia is a free-to-use site that makes money from advertising. We have a modified experience for viewers using ad blockers

Wikia is not accessible if you've made further modifications. Remove the custom ad blocker rule(s) and the page will load as expected.