News
Video game news
---
Set news
---
---
---
---
Theme news
We've got a Riddler for you...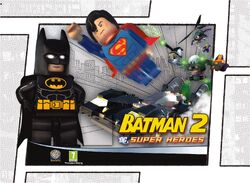 Source(s): [6]
Author:Berrybrick
Just today, non-preliminary (but still small) images of the long anticipated DC Universe Super Heroes sets and the Lex Luthor minifigure! The first clear images of Two-Face and The Riddler have also been leaked on eBay.
In related news, LEGO Batman 2 and LEGO Super Heroes: The Videogame have turned out to be one in the same, LEGO Batman 2: DC Super Heroes. It will be produced by Warner Brothers, developed by Traveller's Tales, and be released sometime in 2012. See the pages of the villains for their respective pictures.
---
Other news
---
Thanks
Ad blocker interference detected!
Wikia is a free-to-use site that makes money from advertising. We have a modified experience for viewers using ad blockers

Wikia is not accessible if you've made further modifications. Remove the custom ad blocker rule(s) and the page will load as expected.