I saw CM4S had a small one, so I'll take what he has and add stuff:
Lord of the Rings LEGO!

Source(s): Variety, Teaser Site
Author:Anon.
Finally people can stop moaning about wanting LoTR LEGO...
Lego has found its next precious.
Warner Bros. Consumer Products has awarded the toymaker the rights to create action figures and playsets based on "The Lord of the Rings" trilogy and the two upcoming films based on "The Hobbit," the first of which bows at the end of 2012.
The multiyear deal grants Lego access to the library of characters, settings and stories of "The Lord of the Rings," "The Hobbit: An Unexpected Journey" and "The Hobbit: There and Back Again," all helmed by Peter Jackson.
The first toys Lego plans to produce will hit store shelves in June, tied to "Lord of the Rings," with new construction sets planned for the weeks leading up to the Dec. 14 bow of "An Unexpected Journey."
"Only Lego, with their expertise in the construction category, is capable of doing justice to the incredibly imaginative environments depicted in the world of 'The Lord of the Rings' and the two films based on 'The Hobbit,'" said Karen McTier, executive VP, domestic licensing and worldwide marketing, Warner Bros. Consumer Products. "These films give life to amazing worlds and characters and we are thrilled to bring fans these products that deliver an imaginative play experience befitting of these beloved properties."
Warner Bros. has a long history with Lego.
Lego has produced toys around the studio's "Harry Potter" franchise, the Batman and "Speed Racer" pics and now the entire DC Comics library. Lego also has tied toys to Disney's "Pirates of the Caribbean," "Toy Story," "Cars" and "Prince of Persia" pics, and has long had the "Star Wars" and "Star Wars: The Clone Wars" license.
Warner Bros.' Lego-made DC toys are also expected to hit store shelves next year, the same time Lego will also release its Marvel line, tied to Sony's "The Amazing Spider-Man" and Disney's "The Avengers."
"Our collaboration with Warner Bros. Consumer Products has delivered numerous worldwide successes in the construction toy aisle, introducing us to loyal audiences who love great stories, strong characters and the toys that they inspire," said Jill Wilfert, VP, licensing and entertainment for the Lego Group. "It's particularly exciting to now be able to create sets based on the fantasy worlds and characters from 'The Lord of the Rings' trilogy and 'The Hobbit,' not only because we know they will foster collectability and creative play, but also because these are two properties that our fans have been asking us to create for years."
Going after film franchises has paid off for Lego, with "Harry Potter" and "Star Wars" helping the toymaker top $1 billion in sales in the U.S. for the first time in 2010, a figure it's confident to repeat again this year. Altogether, sales are up 106% for the fourth-largest toymaker since 2006, the company has said.
This year, shipments of Legos to stores between August and October are up more than 65%, according to Panjiva, a New York-based data firm.
And here is a teaser site.
---
New Ninjago!
This article has no source!
Author:Anon.
These photos were found on LEGO's cache recently of 9457 Crane Wrecking Ball:
Also, some more Ninjago found:
---
LEGO Store (and cache) update
This article has no source!
Author:Anon.
The following 2012 sets have been added to the LEGO Store US (or are about to be):
---
CUUSOO Minecraft - Statement
Source(s): Eurobricks.
Author:Anon.

This is a description taken from LEGO.com. Do not modify it.
---
Hi Everyone,
We've seen some comments and questions about the Minecraft project on various AFOL forums, so here's a bit of background on it and how we view the project and idea. We're going to post here instead of commenting online on the several places where there is discussion, this way we can focus our time on working on the platform instead of getting into multiple dialogues. Some people don't like Minecraft, others don't see how it would make a good LEGO product, and some are wondering how something got 10,000 votes so quickly. We've also heard peoples' desires that CUUSOO would promote well-built MOCs as the next models.
LEGO CUUSOO is a place for people to share their ideas for potential new LEGO products. In response to Minecraft, Paal put it this way in the press release; "This is what LEGO CUUSOO is all about, connecting people's passion to the LEGO brick." While most Minecraft fans aren't AFOLs, they are really passionate about Minecraft and happen to like LEGO products. So, CUUSOO worked just as intended here – a group of passionate people saw the opportunity to connect their interest to LEGO bricks, and we've identified a community with critical mass where we could produce products they would enjoy and buy.
Now we are looking to see if we can develop LEGO models which the Minecraft community would want, and that has the design quality that is expected of a LEGO product. If we succeed, we meet someone's passion with a LEGO product and identify a new LEGO consumer – some of whom will become regular purchasers and still some who might become future AFOLs.
But how would Minecraft be a good LEGO product? Isn't it redundant, and aren't the blocky play set images out there just low-fi Basic sets, and wouldn't using cubes be really unstable? Well, yes. We see the low-fi images of Minecraft models as representative of the idea of Minecraft themed LEGO products, and we know blocky play sets won't work as products. What we do see is demand for LEGO products that celebrate the Minecraft game.
Any product given the green light through CUUSOO goes through an extensive design process with our model designers. So, it will never be exactly what is submitted (neither Shinkai or Hayabusa were that way; Hayabusa went through two major revisions to get to the final, and we'll have news on that in the coming weeks). We'll share bits and pieces of that process as models are produced through CUUSOO. If you're concerned with quality of an eventual set, the designers evaluating Minecraft have backgrounds with LEGO Architecture, Blacktron I, and Space Police I, so any potential product is in very capable hands. We're also collaborating with the two original users who created the project.
How did this happen so fast, when good models are only getting handfuls of votes? The quick answer is the Minecraft community is large, new, focused, and passionate (2 million Facebook fans/16 million players). We were taken off guard with this, and did not expect this kind of a surge in traffic to our platform that is still in beta. We're looking at it as an amazing opportunity, though, and taking what we have learned to improve things for the future.
Here's what happened: Someone put up a Minecraft project. Mojang (Minecraft creators) found it and thought it was cool, and they linked to it on Facebook and Twitter. Immediately traffic spiked and even brought down the site a couple times. Along the way there was the issue of ownership; the original poster uploaded someone else's image and the project got popular with that image posted. We investigated and all agreed the route of making it a collaboration was best. It was clear that the Minecraft idea would gain critical mass, and we would need a license anyway. So, Mojang agreed to step in and work collaboratively on it with the users, and the users just wanted to see Minecraft happen and were happy to work together.
But what about this awesome MOC that totally deserves to be a LEGO product? As an AFOL myself, I know it's a dream to think of your creation as an official LEGO product. In this case, the Minecraft community lacks in building skill but makes up for it in focus and passion. Think not just about building quality, but about connecting to your audience's passion. There are a few dozen really great models on CUUSOO, with votes in the high hundreds and even in the 1000-1500 range, so it's not impossible. Also think about what makes a good LEGO product (not just a good MOC). The game is still wide open. This is only the third CUUSOO product, and the first one on the global platform. So, get at it! J
CUUSOO isn't just about getting great MOCs produced, it's about connecting passion for an interest with the LEGO brick. As a business case, it's about finding new markets for the company that we would otherwise overlook, and supporting them with data before we produce a product. We see the Minecraft opportunity as a good one. Star Wars brought in many, many new LEGO consumers and fans and 12 years on it is still a strong theme. Harry Potter, the Direct exclusives and LEGO Architecture are doing the same. Minecraft will only be a fraction of Star Wars' success, but it is an opportunity to connect with another passionate fan community, so it's worth exploring.
We learned a lot about the platform and user behavior through the Minecraft experience. Some of it we already knew intuitively, other things were new lessons that can only come after being overwhelmed with traffic of this nature. The experience either proved some assumptions and disproved others. We're actively developing improvements to the platform itself, the rules, and the mechanics.
Specifically, we're very aware of the rampant plagiarism of AFOLs' creations. It isn't cool at all to have a site where users do this, and the upcoming changes will have more explicit rules and make it difficult for users to plagiarize in the future by allowing for user reporting and easier/quicker administration. We believe that stamping out plagiarism and raising the project submission age to 18+ will improve the quality of models on CUUSOO so users don't have to wade through junk. We're also working on improvements to the sign up process, the process of submitting your first Project, and making it easier to find things on the site. We're grateful to all of you for your help with suggestions and flagging plagiarism. We hope to have the site improvements online soon.
Hope this has addressed some of the main questions about CUUSOO and the Minecraft project.
Thanks!
Tim Courtney, the LEGO CUUSOO team
---
LEGO staff get a duck
This article has no source!
Author:Anon.
LEGO employees get set 2011 LEGO Duck this year for Christmas. It is based on the original Wooden Duck.
---
Series 6 in UK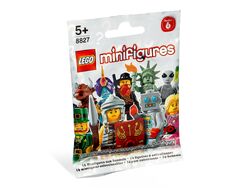 This article has no source!
Author:Anon.
According to Brickset, you can find Series 6 of the minifigures in WHSmith stores.
---
Friends commercial! (And other Friends bits)
This article has no source!
Author:Anon.
Another video, but for the new Friends line!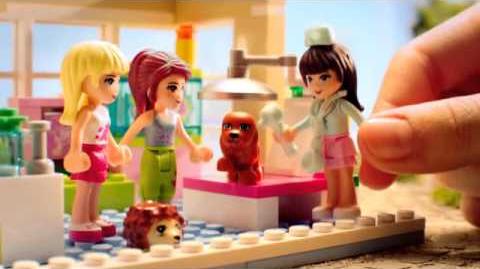 According to Business Week, LEGO are investing $40 million into advertising Friends. Wired suggests they have spent the last four years researching for it, and the figures are termed "ladyfigs".
---
Na-na-na-na-na-na Batman (2)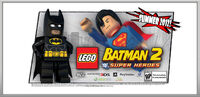 The new Super Heroes sets confirm the upcoming video game LEGO Batman 2: DC Super Heroes. It will be heading to Wii, 3DS, XBOX 360 and unnamed Playstation platforms, presumably the PS3 and Vita.
Harry Potter DLC
I'm not a big fan of Downloadable content if it doesn't seem to add much to the game. And with that, a character park is released. A few days ago DLC for LEGO Harry Potter: Years 5-7 has been released, and will cost you either 240 Microsoft Points or £2.39 if you are on PSN. I'm not entirely sure about the characters included, but there is 10, which according to this forum are:
Luna (Lion Head)
Ron (Ghoul)
Lockhart (straitjacket)
Harry (Yule Ball)
Hermione (Pink dress)
Peeves
The founders of Hogwarts.
If anyone can confirm, please do in the comments.
Other news
Credits
Most stuff written by me, except:
Quotes are by their authors.
Images are most likely copyrighted by LEGO, and if not, see their page for details.
The first half of "Friends commercial" written by CM4S.
Article on 9457 by CM4S.
P.S. - Anyone notice the new image preview feature? Its actually quite cool.
Template-ising by UltrasonicNXT.
Ad blocker interference detected!
Wikia is a free-to-use site that makes money from advertising. We have a modified experience for viewers using ad blockers

Wikia is not accessible if you've made further modifications. Remove the custom ad blocker rule(s) and the page will load as expected.