---
Just revealed from Shop@Home:
This is a description taken from LEGO.com. Do not modify it. (visit this item's product page)
---
Help Batman™ save Robin from the villainous trio!
"The Riddler™, The Joker and his sidekick Harley Quinn are holding Robin hostage at their evil funhouse! As our hero Batman™ jumps off his cool Batcycle, can he avoid the trap door, big hammer and moving floor and rescue his crime-fighting partner? Includes 5 minifigures: Batman™, Robin, The Joker ™, The Riddler ™ and Harley Quinn.
Includes 5 minifigures: Batman, Robin, The Joker, The Riddler and Harley Quinn
Features Batcycle and funhouse
Funhouse features wagon rails, crane, hammer, opening trap door and moving floor
Lift the crane!
Move the floor!
Includes comic book!
Funhouse measures over 8" (21 cm) tall and 11" (29cm) wide
Batcycle measures over 4" (10 cm) long

It would appear that this set is the "Unknown set" containing Harley Quinn and The Riddler that there have been rumors of recently.
SH sets showing up in US TRU stores!
Source: LEGO Superheroes have arrived at TRU... by slayerdead on flickr
Series 6 Commercial?
Researching my Youtube Channel, one of my subcriptions uploaded this:
Looks like the Robot's head is one stud wide!
LEGO ReBrick (Octopus) launching soon!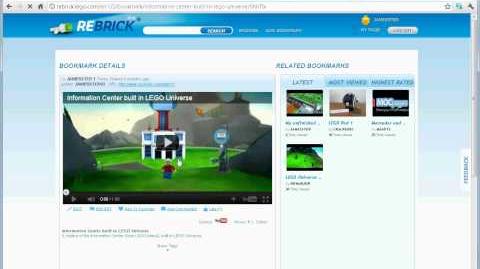 A member of LEGO ReBrick, (Brickipedia's Jamesster.LEGO) has revealed what the famed "LEGO Octopus" is all about!
From the "About ReBrick" page:
Share your favorite creations with the LEGO® brick and inspire other people.
All you have to do to get started is to find an image, video, blog post, article or whatever format your favorite piece of content is on the world wide web and submit the link to ReBrick.
WHAT IS THE BASIC IDEA WITH REBRICK?
ReBrick is a social media platform where adult users can share and discuss user-created LEGO content online.
It will not be possible to upload content to the site. Instead the basic functionality is for the user to bookmark content from other sites, such as Flickr, Youtube, MOCpages and similar sites, and have a discussion at the ReBrick hub.
ReBrick is a public stage for fans of the LEGO brick to share their wonderful models and creations with the general public.
IS REBRICK PART OF LEGO.COM?
The ReBrick website is made and facilitated by the LEGO Group. But ReBrick is not part of LEGO.com. While LEGO.com is for children (of all ages), ReBrick caters to fans over 13. There's no commercial agenda. The site will never be used to market LEGO products so you won't see campaigns, adverts or advertorials.
IT'S YOUR REBRICK!
The ReBrick project is a collaboration between the LEGO Group and the LEGO community. In fact, we could almost say it's co-owned. Though The LEGO group retain ownership of the site, there will be no product announcements or any attempt made to market LEGO products. The content is brought in, discussed and ultimately owned by the community -- that's you!
Open Beta The site is currently in an Open Beta phase. This means there is a closed group of users testing the site. The site has still minor bugs and errors, which are being fixed during the beta period. Before Christmas The LEGO Group will launch the site and go public.
Thanks
Cligra, for editing it, adding some stuff, and changing it to a news blog.
Slayerdead of Flickr for the TRU image.
YT user BrikiLeaks for the S6 video.
Jamesster.LEGO For the ReBrick video and description.
Everything else written by me.
-Sci
Ad blocker interference detected!
Wikia is a free-to-use site that makes money from advertising. We have a modified experience for viewers using ad blockers

Wikia is not accessible if you've made further modifications. Remove the custom ad blocker rule(s) and the page will load as expected.