---
---
Hello everyone, CM4S back here with another news blog.
MOCpages Community Member "Heather Braaten/HeatherLEGOGirl" is Missing
I had to make this the top post. If you're a member of MOCpages, you may know Heather. Please refer to the link below for more info.
http://www.flickr.com/photos/tot-lug/6875431142/in/photostream
Series 7 in the UK.
It seems that 8831 Minifigures Series 7 is available in the Kingdom of the United. Located at John Lewis stores. Eurobricks users WhiteFang and SilentMode have bought some packs, and WhiteFang brought us an awesome review.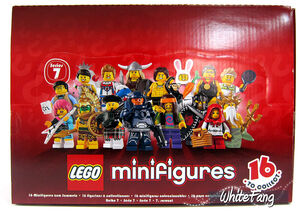 Look at that review here.
---
Hi-res LOTR set pics.
Eurobricks user grogall shares with us hi-res photos of the new Lord of the Rings sets.
Find the rest on the set pages.
---
Marvel sets in the UK.
A few people have spotted the new Marvel sets in the shop John Lewis.
If only they were in the US now.
---
Nick Fury and Spider-Man set minifigures revealed at last!
Wow, what a day for news. It seems that the new Marvel set instructions have some images in them. They revealed the new minifigures.
---
Minifigures Site Update with Series 7.
Looks like the Minifigures site was updated today. Take a look at it here!
---
<center>
NRG Ninjago Ninjas on eBay.
Apparently, the NRG Ninjago guys are on eBay. Link here.
Thanks
To EB user "grogall" for the LOTR pics
To various EB users for the Marvel pics
To Brickset for sharing the Marvel sets in stores pic
Update
Stop demanding an update, people. It's rude.
Ad blocker interference detected!
Wikia is a free-to-use site that makes money from advertising. We have a modified experience for viewers using ad blockers

Wikia is not accessible if you've made further modifications. Remove the custom ad blocker rule(s) and the page will load as expected.