Hello Brikipedians, and I am excited to tell you that I have made more custom LEGO minifigures! They are all seen in the galleries below.
Back to the Future
Karate Kid
These ones aren't as good as the others.
Star Wars
Harry Potter
Narnia
Pirates of the Caribean
Thank you for looking at them! Please comment. And look at how many minifigures it took me to make all of them with!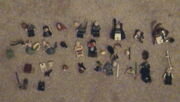 Ad blocker interference detected!
Wikia is a free-to-use site that makes money from advertising. We have a modified experience for viewers using ad blockers

Wikia is not accessible if you've made further modifications. Remove the custom ad blocker rule(s) and the page will load as expected.