---
---
Master Builder Academy Level 4 previewed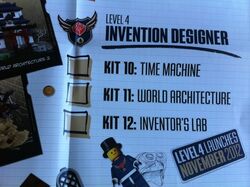 Source(s): [1]
Author:Cligra
From a poster inside the level three kits (available now), come a preview of the next wave of MBA sets:
Level four: Invention Designer:
---
More Monster Fighters Images
This article has no source!
Author:Cligra
Finally, final images (of varying sizes and qualities) of the Monster Fighters boxes have been discovered!
I addition to this, a further polybag has been discovered, although there are no images yet: 40076 Monster Fighters DTC GWP.
---
Advent Calendar Images
Source(s): http://smashing-bricks.com/2012/05/10/lego-2012-advent-calendars/
Author:Cligra
I don't know about you, but I'm looking forward to the Friends one...
---
CUUSOOWatch
---
Thanks
Ad blocker interference detected!
Wikia is a free-to-use site that makes money from advertising. We have a modified experience for viewers using ad blockers

Wikia is not accessible if you've made further modifications. Remove the custom ad blocker rule(s) and the page will load as expected.