---
---
Videogame Minifigures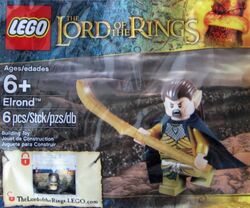 This article has no source!
Author:Cligra
Two polybagged sets being released to go along with new LEGO videogames LEGO The Lord of the Rings: The Video Game, and LEGO City: Undercover have been announced- 5000202 Elrond, and 5000281 Chase McCain. It is worth noting that while Elrond is exclusive to his set, Chase also appears in one of 2013's new City sets, 60007 Car Chase.
---
CUUSOOwatch: October

Source(s): Brickset
Author:Cligra
A new CUUSOO project, Purdue Pete, has reached 10,000 supporters- in under 36 hours. For more information on the model, see the aforelinked CUUSOO page.
In other news, CUUSOO has posted on their blog that the summer review is almost complete, and that they have begun work on the fall review.
---
The Hobbit Designer Videos
Source(s): Click-a-Brick
Author:Cligra
So far, three of the The Hobbit: An Unexpected Journey designer videos have been posted online, for 79000 Riddles for the Ring, 79003 An Unexpected Gathering, and 79010 The Goblin King Battle. You can watch all three here, on Click-a-Brick.
---
New LEGO Shop Items
Source(s): Brickset
Author:Cligra
Two new sets have been posted on shop.lego.com with a release date of January 1st- 10233 Horizon Express, and 10937 Batman: Arkham Asylum Breakout.
---
Thanks
As usual, SKP4472 for reporting everything from Click-a-Brick.
As this blog is a bit late, it's not really worth posting all the new pictures here, as they aren't news anymore. But many thanks to everyone who reported them anyway. :)
It is also worth noting that on October 30th, the Brickipedia News Blog will be one year old! Thanks to everyone who has helped us reach this landmark!
Ad blocker interference detected!
Wikia is a free-to-use site that makes money from advertising. We have a modified experience for viewers using ad blockers

Wikia is not accessible if you've made further modifications. Remove the custom ad blocker rule(s) and the page will load as expected.