Welcome to my first ever news blog!
In this blog, I will be checking out some of the latest creations on CUUSOO. So here are some of this weeks CUUSOO Creations!
The Winchester- Shaun of the Dead
Uploaded onto CUUSOO 3 months ago, the famous pub from the hit film, Shaun of the Dead, is brought to life in the LEGO world by Yaktuu. The detailed set includes 15 minifigures, 9 of which are zombies, The Winchester pub and several other details. The Winchester comes in 3 parts, enabling you to open the roof to see the astonishing detail inside. It also let's you re-live the 'Don't stop me Now' scene!
The set recently achieved 10,000 supporters, and is currently being reviewed by LEGO. Hopefully there should be a review on the CUUSOO website soon!
BTTF - DeLorean Time Machine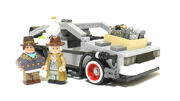 A LEGO replica of the time machine from the Back to the Future Trilogy, this set is be at 10,000 supporters in no time! Uploaded 8 months ago by m.togami, the creation has come far, with over 7,500 supporters, 1372 comments and 165,211 views, LEGO must be eager to see it reach the goal of 10,000 supporters!
Modular Western Town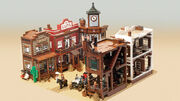 One of my favourite creations on CUUSOO, it has to be the best modular creation I have ever seen. Created by mb_bricks, this incredible western town brings a whole new theme of Modular Buildings. The town consists of 5 sets, the Saloon, Post Office, Central Store, Gun Store and Sheriff's Office. Two of those sets will feature a vehicle.
LEGO stated in their first comment that they are only making one set for starters, but could become a huge hit! Let's hope that LEGO see what this amazing town can do to Modular Buildings!
Well, that's this weeks roundup of CUUSOO Creations! Be sure to check next week for another 3 creations!
Ad blocker interference detected!
Wikia is a free-to-use site that makes money from advertising. We have a modified experience for viewers using ad blockers

Wikia is not accessible if you've made further modifications. Remove the custom ad blocker rule(s) and the page will load as expected.