Welcome back to my blog all about, CUUSOO Creations!

Space Marines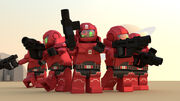 Space Marines, made by Nick Royer, is what he hopes to be a new space theme. He intends on using Galaxy Patrol's armour with a red paint job, to create a new age of the LEGO Space Theme. The sets are based way after human-alien contact, where an elite group of space marines seek out and destroy evil aliens.
Nick has already designed a few sets, including the Space Marines spaceship and a small truck. The creation already has over 2000 supporters! Personally, I think this idea will get far!
LEGO Architecture - Leaning Tower of Pisa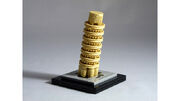 This week, I tried to get a wider variety of ideas. So here is an Architecture set. Created by Moctown, this small yet astonishing set really captures the landmark's incredible leaning pose. The set only contains 61 pieces. I supposed this set, if it makes 10,000 supporters, will cost around £15-£25. Just a rough guess.
LEGO also commented on the other images, including the pizza man trying to hold it up. I really like this set, and would like to see it come to the shops! Great detail, quite small, brilliant!
Doctor Who LEGO Sets
Okay, this last creation is completely random. I closed my eyes and started clicking around CUUSOO and this is what I found. So, this set is interesting. They seem to have some custom stickers or printing. They have used some Indiana Jones pieced for the minifigures. This creation was actually pointless, because the BBC already have a contract with Character Building.
Well this weeks round up was very interesting. A possible future for LEGO Space, ideas for LEGO Architecture and an idea which was pretty pointless.
Ad blocker interference detected!
Wikia is a free-to-use site that makes money from advertising. We have a modified experience for viewers using ad blockers

Wikia is not accessible if you've made further modifications. Remove the custom ad blocker rule(s) and the page will load as expected.