Here is this weeks CUUSOO Creations!

The Legend of Zelda
The Legend of Zelda game series are legendary. The creator of this idea, Mingles, has obviously worked hard to create this idea, with loads of weapons and features already made. I have enjoyed playing The Legend of Zelda, and if it is turned into LEGO, then that will be a miracle. Over 5000 supporters, this idea can be seen going somewhere!
Vampire GT
This astonishing TECHNIC-styled creation really gives TECHNIC fans a boost. Crowkillers, the creator, has put incredible detail into making this set and has even showed what the inside of the vehicles looks like. Uploaded only on the 4/4/12, it already has almost 500 supporters! Good job Crowkillers!
Macrofigures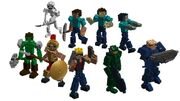 Macrofigures are simply larger scaled minifigures, made completley out of LEGO bricks. There are no minifigure parts, like the head, torso or legs, just LEGO bricks. According to the creator Crash Sanders, they are "a new modelling style that represents action figure of humanized characters from different fictions" These Macrofigures seem intersting, and I would buy some if they were to be released. I am especially liking the Creeper he made. With just over 300 supporters, Crash has a long way to go before he gets to 10,000 supporters!
And that's this weeks roundup of CUUSOO Creations! Be sure to check next weeks CUUSOO Creations for even more original (sort of) ideas from LEGO fans around the globe!
Ad blocker interference detected!
Wikia is a free-to-use site that makes money from advertising. We have a modified experience for viewers using ad blockers

Wikia is not accessible if you've made further modifications. Remove the custom ad blocker rule(s) and the page will load as expected.