Here are some more CUUSOO Creations! This week I am going Sci-Fi! So are this weeks creations!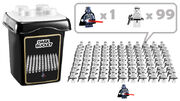 This creation is just incredible! I have also thought to myself, "Have I got enough Stormtroopers? Nah!" Well with this set, you get an extra 99 Stormtroopers, to build the Empire, with their leader, Darth Vader! They have also come up with another idea, including some AT-AT Pilots and even Luke and Solo in Stormtrooper disguises! This is a great creation for fans of army builders, LEGO film makers or just Star Wars fans!
I have never played, what I believe is an online game called EVE, but this set really caught my eye! I love the features of the ship, and the way it has been designed. After seeing this, I think I might just go have a look at this EVE game. Amazing ship, great detail, although could be brought to minifigure scale.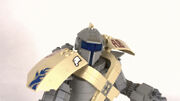 This has to be a favourite of mine, and would go well as a Creator set! I was astonished with the great detail put into this set, but quite disappointed about the number of supporters. I really like the arm cannon, and the filter on the back gives this set something to look at. Really detailed, would make good Creator set, but might never get 10,000 supporters.
Some great Sci-Fi creations there, and next week we will be looking for some Fantasy sets! If you think you've seen an amazing fantasy-themed creation on CUUSOO, then post the link in the comments!
Ad blocker interference detected!
Wikia is a free-to-use site that makes money from advertising. We have a modified experience for viewers using ad blockers

Wikia is not accessible if you've made further modifications. Remove the custom ad blocker rule(s) and the page will load as expected.