Here are some more CUUSOO Creations!

Inspired by the books and the recent film, this creator sure does want to see TinTin in LEGO style! He has made a custom hair piece for TinTin, and made Snowy out of LEGO bricks, but he could have just used the dog mould. I really like how they have designed the bike, but they could have tried harder with the minifigures. It was disappointing to see some with computer-painted faces. Overall, cool sets, minifigures need improving.
First thoughts: Finally, sense has come to the world! I have always wanted a Roman style theme! Now this has hit the nail! Mminnit has created several detailed sets, some incredible minifigures, plus some brand new pieces! So far he has made Icena Chariot Attack, a Roman Warship and a Roman Battle Pack which includes a new Tiger piece! All together, incredible sets, incredible minifigures, incredible pieces and an increible idea!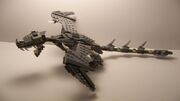 Hmmm, now where have I seen this before? Was it in a game? Was it in medieval times? Was it The Elder Scrolls series? Why yes it was! But this creations takes a different approach to dragon slaying. Rather than having your main dragon slayer, there seems to be a group of dragon slayers, a lot like Monster Hunters. But, there is a dragon king. His named is apparently lossed. By any chance was it Alduin? Anyway, some intersting sets that need more thought put into them.
Well, an interesting group of creations this week! But in the news, last weeks EVE Online Ships - Rifter and the Back to the Future creation have now reached 10,000 supporters! Congratulations to the creators!
Ad blocker interference detected!
Wikia is a free-to-use site that makes money from advertising. We have a modified experience for viewers using ad blockers

Wikia is not accessible if you've made further modifications. Remove the custom ad blocker rule(s) and the page will load as expected.