Another week of some great ideas, all from CUUSOO!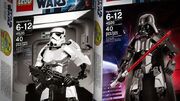 With 2 themes already using TECHNIC pieces to create action figures, Star Wars Ultrabuild will be a great addition! The creator has used some new pieces to build Ultrabuild Stormtrooper, Darth Vader and even C3-PO! I really like these sets, full of detail, using the pieces well. Great idea, could go far and some cool custom parts.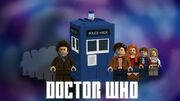 Somewhat the most incredible Doctor Who design I have ever seen on CUUSOO. The way this person has made the minifigures is astonishing. With barely any new molds used, this idea is amazing! I must say I love the Dalek design, and it can be used for any other Daleks needed! The TARDIS design could have been improved, and it will be difficult getting the BBC to licence this set. Other than that, great minifigures, incredible designs but TARDIS needs improving.
Another Architecture idea. A range of Japanese structures have been created for this idea. Very interesting ideas, but they are more Creator sets than anything. This is due to them being minifigure scailed, and some even including minifigures. So, cool idea, great designs but more Creator style.
Summary
This weeks creations have been very interesting. We see the possible future of LEGO Star Wars, some astounding LEGO Doctor ideas and some, shall I say, interesting Japanese creations. Now, I am sure you are all aware of Brick Bobby's blog, CUUSOO News. I was quite unhappy to find his blog was even more popular than mine, when I have been doing mine for over a month now. So some more creations will be here next week!
Ad blocker interference detected!
Wikia is a free-to-use site that makes money from advertising. We have a modified experience for viewers using ad blockers

Wikia is not accessible if you've made further modifications. Remove the custom ad blocker rule(s) and the page will load as expected.