Here is another blog post, featuring some CUUSOO Creations!

I am not a bird watcher myself, but seriously, I would buy these. As I am British myself, these would make a great UK exclusive! I know one of the rules is to focus on one set, rather than an actual theme, but I'm sure will be able to work around the way they put this set together. For example, they could size the birds down and put them in a pack! Love this creation, very imaginative and no new pieces or licences needed!
Again, not exactly a tree hugger (but I do care for my enviroment), but this creation appealed to me in some way. I have noticed quite recently in LEGO sets, how the trees are beginning to look like a stick with a cactus on the end, just not very tree - like. But these could really work! I mean there is a swing in one, they could add a tree house and there is even a birds house! Love the sets, beautifully detailed, more can come!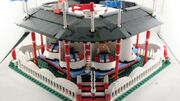 I have always had a thing for whirly rides. For some reason, whenever I go on one, I never feel sick or even dizzy. So, I would love to put some expression on my minifigure (possibly the Hazmat Guy's face) after they have a go on this! I don't think will get far, mainly because of the way it has been built, and the amount of bricks including. Cool set, suitable for 6-11 year olds to play with, not suitable for 6-11 year olds to build.
Poll
Okay, it is time for you people reading this to decide what kind of creations I should put in CUUSOO Creations - 10 ! Below is a poll, pick your favourite theme and vote!
What type of theme should CUUSOO Creations - 10 have?
Ad blocker interference detected!
Wikia is a free-to-use site that makes money from advertising. We have a modified experience for viewers using ad blockers

Wikia is not accessible if you've made further modifications. Remove the custom ad blocker rule(s) and the page will load as expected.