This is the 10th edition of CUUSOO Creations! Below, you will see a line up of randomly chosen creations from LEGO CUUSOO, as voted by you!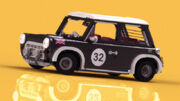 As a person from Britain, this creations caught my eye! The stunning detail in the range of Mini Cooper's are incredible. Complete with a number plate, headlights, grill and even some detailed wing mirrors, Mini Cooper's can't get any better than this! Looking at the interior design was like looking at the real thing. A radio in the front, speakers in the back, handbreak, and time. Time and thought put into this creation. And that is why it deserves to be on CUUSOO Creations!
This has been up on CUUSOO for some time now, but I decided not to put it in until now, because of its potential. This Labyrinth is exquisite, a great idea to put on CUUSOO. That isn't just because is has great detail, and the way they have made it, but because it ticks all the boxes to becoming a LEGO CUUSOO set! This is an actual LEGO board type game I would buy, as I am not a fan of LEGO Games. Personally, the medieval one is my favourite!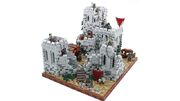 What are your first thoughts? Mine were, "Woah, epic!". It also made me ask myself, "Why doesn't LEGO put this much detail into their own sets?". (Although I am very impressed with the Monster Fighters Haunted House) The Goblin Fortress uses amazing building techniques to give the sight of the set a realistic view. Like how some of the walls don't look combined together so well, or how it looks like it is about to fall down. These techniques are what LEGO are looking for!
Summary
And that was the 10th edition of CUUSOO Creations! Be sure to post links in the comments to creations that you want to see on here! Blog Posts
Ad blocker interference detected!
Wikia is a free-to-use site that makes money from advertising. We have a modified experience for viewers using ad blockers

Wikia is not accessible if you've made further modifications. Remove the custom ad blocker rule(s) and the page will load as expected.