This week looks interesting, with some more CUUSOO Creations!

From the creators of EVE Online: Rifter, czar brings to you, Castle Crashers! From what I have heard, this is an XBLA game, featuring some knights and bad guys. Although I love my Xbox, I haven't heard of this game before. Still, I am intrigued by the quality in the set. The custom pieces rock, especially the bad guys helmets. But, as sad as this is to say, this set will not pass the review, once achieved. It requires a new licence, new moulds and is not based on 1 set. Overall, I love it! (I would recommend checking out the game!)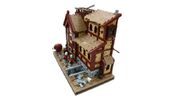 It has been a while since I have seen a medieval set not entirely based on knights or fighting. The exquisite design captures the features of what a wizard's house could actually look like. The bumpy roof, the stones and water flowing outside and the bits and bobs inside his house. I love the stained glass windows aswell! And on that, this creation could pass the review.
The last time we saw this ship in the LEGO world was in LEGO Star Wars III: The Clone Wars, as an unlockable ship in the Invisible Hand. And now I have encountered it while wondering around CUUSOO. And disappointed, I am not. The creation features much of the details from the TV Series, although the colour is slightly different from the game. It seems to be able to stand, and has very flexible legs. But once again, this set will not pass the review due to licencing.
Ad blocker interference detected!
Wikia is a free-to-use site that makes money from advertising. We have a modified experience for viewers using ad blockers

Wikia is not accessible if you've made further modifications. Remove the custom ad blocker rule(s) and the page will load as expected.