Ad blocker interference detected!
Wikia is a free-to-use site that makes money from advertising. We have a modified experience for viewers using ad blockers

Wikia is not accessible if you've made further modifications. Remove the custom ad blocker rule(s) and the page will load as expected.
Here's an INSANE glitch at ninjago.lego.com. Go to the characters. It starts with
heroes, but it works with the Serpentine, too. Hit "The Snake Clans" at the top left corner of the character showing, and quickly hit one of the characters at the bottom before the list of bad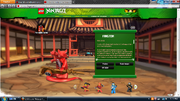 guys show up. Then the good guy you clicked appears on the screen in with the bad guy background and list. When I did this, i was like, "WUT." Then I was like, "I gotta put this on Brickipedia!!" So there's the epic glitch. Try it. It's awesome and fun. Show your friends that don't know much about Ninjago this glitch, and say, "(Insert hero name here) is a bad guy!" or "(Insert bad guy name here) is a hero!" It will AMAZE your friends.
--DaMaelstromGuy 22:09, February 6, 2012 (UTC)