(Closed Discussion)
Someone posted this picture on LEGO Universe Wiki, even though it isn't on any. It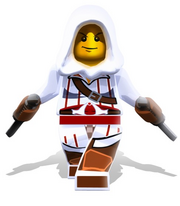 looks quite like the character (I don't know his name) from the Assassin's Creed games. I don't know if this is a fan-made pic (It doesn't look like it), but if it isn't, is it possibly a hint of 2013? The reason I say 2013 is because we already know everything about this year (2012).
--DaMaelstromGuy 01:58, January 5, 2012 (UTC)
Ad blocker interference detected!
Wikia is a free-to-use site that makes money from advertising. We have a modified experience for viewers using ad blockers

Wikia is not accessible if you've made further modifications. Remove the custom ad blocker rule(s) and the page will load as expected.