while all of the other army blogs are focused on invading earth, this army is focused on invading mars. why invade mars you ask? the answer is easy:because of their knowledge of poisens. why do i want knowledge of poisens you ask? number 1 stop asking questions number 2 if you must know it is so i can poisen annoying users. which users i poisen is up to you. ps at the end of your brickipedia day or whenever tell me what you did to elp brickipedia and i will tell you which weapon and rank you earned. so sign up today! weapon pictures and more ranks coming soon!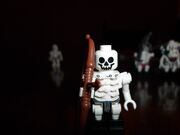 ultra-master:me
scientist:Awesomeknight1234
guard:OPEN
technician:OPEN
Ad blocker interference detected!
Wikia is a free-to-use site that makes money from advertising. We have a modified experience for viewers using ad blockers

Wikia is not accessible if you've made further modifications. Remove the custom ad blocker rule(s) and the page will load as expected.