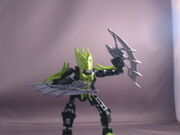 Hi there, New Users! I'd like to welcome you to Brickipedia, home of the Brickipedians. I'm new here too, so I don't know much. But I'll give a few helpful tips I've learned in my short time on the site:
If you enter a chat, be prepared to leave (The editors get weird...).
When editing an article, remember that others will change your ideas, so be flexible.
Stay away from users who post links during chat (most of them are spam, or viral websites).
When commenting on other editors talk pages, user profiles, etc., remember to end with four of these: ~.
NEVER mess up an article.
Be friendly to other new users, and maybe they will return the favor.
Always strive to be an administrator.
Enjoy your time on the site!!!
I hope this helps!!!
Dr. Pepper Est.1885 01:58, July 16, 2011 (UTC)
Ad blocker interference detected!
Wikia is a free-to-use site that makes money from advertising. We have a modified experience for viewers using ad blockers

Wikia is not accessible if you've made further modifications. Remove the custom ad blocker rule(s) and the page will load as expected.