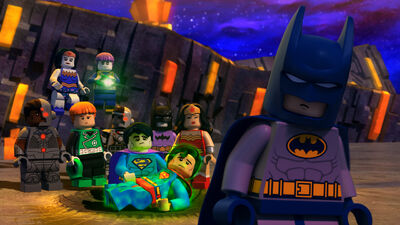 Exciting news, LEGO and DC fans! LEGO DC Comics Super Heroes: Justice League vs. Bizarro League is coming out on DVD and Blu-Ray TWO weeks earlier than originally announced! In the follow-up to LEGO Batman, The Movie: DC Super Heroes Unite, the Justice League is newly solidified yet faces a peculiar set of villains in LEGO DC Comics Super Heroes: Justice League vs. Bizarro League, and you can see it all on Blu-ray Combo Pack, DVD and Digital HD on February 10, 2015! The Blu-ray and DVD releases will include an exclusive Batzarro LEGO Minifigure on-pack (while supplies last).
The movie will be available on Blu-ray Combo Pack for $24.98 SRP and on DVD for $19.98 SRP. The Blu-ray Combo Pack includes a digital version of the movie on Digital HD with UltraViolet, and YOU can own LEGO® DC Comics Super Heroes: Justice League vs. Bizarro League in Digital HD on February 10 via purchase from digital retailers! Want more details? Check out the synopsis below.
Batman has joined the newly formed Justice League in order to keep tabs on Superman, a mistrust that is complicated by Superman's clumsy – but well-meaning – clone, Bizarro. Bizarro's creation of the Bizarro League has caused confusion amongst the world's greatest Super Heroes, but an even greater and mysterious threat may force the Justice League and Bizarro League to band together to defeat evil.
Special features on the DVD/Blu-ray include:
LEGO® DC COMICS SUPER HEROES: BATMAN: BE-LEAGUERED TV SPECIAL – Approximately 22 minutes
BIZARRO! FEATURETTE – One part oddity, one part comedic curiosity, Bizarro is a favorite among the characters within Superman's universe. Take a look at the Man of Steel's potent, backwards nemesis.
BE-LEAGUERED BLOOPERS
---
---
Ad blocker interference detected!
Wikia is a free-to-use site that makes money from advertising. We have a modified experience for viewers using ad blockers

Wikia is not accessible if you've made further modifications. Remove the custom ad blocker rule(s) and the page will load as expected.