Very interesting information, LEGO fans! According to the BBC, 375,000 bricks towering 3.5km (2.17 miles) high is what it would take to break a Lego brick (the bottom brick).
"That's taller than the highest mountain in Spain. It's significantly higher than Mount Olympus [tallest mountain in Greece], and it's the typical height at which people ski in the Alps," Dr. Ian Johnston (an applied mathematician and lecturer in engineering) says.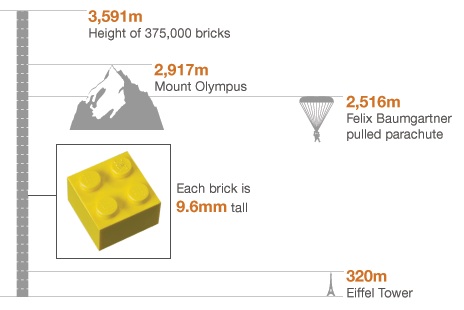 It would apparently be impossible to actually build a tower of LEGOs that high since it would probably topple from not being structurally sound!
According to Ed Dimont, a partner at Bright Bricks with Duncan Titmarsh, the UK's only certified Lego builder, "If you try stacking 2x2 bricks as soon as you get beyond 3 or 4m tall there's almost no way you can take out all of the kinks. So it would be totally structurally impossible to do it, whilst it's an interesting theory."
Do you think you could do it?
Source:
BBC
---
---
Ad blocker interference detected!
Wikia is a free-to-use site that makes money from advertising. We have a modified experience for viewers using ad blockers

Wikia is not accessible if you've made further modifications. Remove the custom ad blocker rule(s) and the page will load as expected.