Well, this is the official Houses of the Month intro. I'm going to take any pics from anyone or videos (but if they are YouTube links, I will not use them), but every month I'll put a bit of stuff I'm considering.
Creepershy's "Obsidian Dream", which the user requested not to put any pics, is a huge temple with a beautiful obsidian entrance hall (Creeper-proof), but the real rooms are underground. The pillars in front and entrance are gorgeous, and you really can't even tell that there is room under. Beds, TNT, and utility rooms line the underground scenario. Water is also present as a private pool!
Our very own Hunterkiller1440 has made a house out of Wooden Planks. Not bad at all, the two-story house has glass windows and a good view of outside to watch for mobs. For a person without Creepershy's resources, it's a nice house.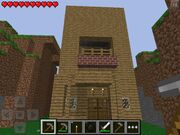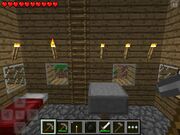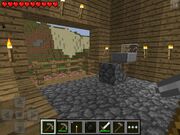 And another epic house from Creepershy. This time it's a PE hotel, made of beautiful mineral blocks. I was captivated by this, and it helped me at the worst time. We had switched Creative (the mode the hotel was made in and the reason no hearts are seen in the picture) to Survival, and I was about to get PWN3D by a creeper, then Creepershy opened the door to me. We hid there (the creeper...well, creeping on us), and soon I got the courage to lob a TNT at it. Mission accomplished. It's got an amazing 11 floors! Furnace, chests, crafting table, beds, ore to smelt, even TNT...on every floor. Every.
Thank you, CS.
Rave, rave, rave! Here is the Ravebreak cube, a colorful place for when you just want to take a ravebreak! (Also, put the song on.) It's basically a cube of different-colored wool with one side open to watch the raving or to put a door. Just keep your TNT or creepers away.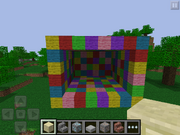 Alright, first up is the Creeper house. I found it a good house with great looks, and all the necessities for a life in Minecraft.
Also this iron Silverfish house pays tribute to everyone's favorite little fishy (although I do hate that they're hostile and alert others in a group when attacked). It's pretty much made completely of iron blocks, but black wool is used for eyes. Even the little mist above the Silverfish is captured!
Ad blocker interference detected!
Wikia is a free-to-use site that makes money from advertising. We have a modified experience for viewers using ad blockers

Wikia is not accessible if you've made further modifications. Remove the custom ad blocker rule(s) and the page will load as expected.