Ok i noted that this year there was something different about the printing on minifigs, mostly the head you see i got a four of the smallest sets this year(Catwoman catcycle city chase, the elite clone trooper battle pack and fire ATV from city and the smallest dino set) and well i looked at the heads and the clone head's were lighter in printing then previous clone heads and Batman's head was very smudgy and the white was all most see trough, the fire fighter head had great printing(the same with dino) so anyway i think LEGO is getting worse with the licensed sets printing(mostly DC super heroes) and getting better with there non-licensed sets, like i said with minfigures, and i am asking why are they getting worse with printing? Money? ink? time? i really don't know. And also on recent marvel minfig pics Hawkeyes normal face look's awkward and black widow looks like she is 70 so why getting bad with design to? and did any of you notice to?
Here is a example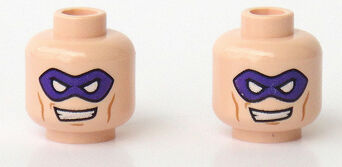 You might want to click on it.
see there is smudges lots of smudges.
Ad blocker interference detected!
Wikia is a free-to-use site that makes money from advertising. We have a modified experience for viewers using ad blockers

Wikia is not accessible if you've made further modifications. Remove the custom ad blocker rule(s) and the page will load as expected.