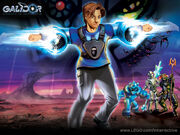 ........bzzzzzz.........
Hello! Legoguy2805 here. Following my recent visit to the Outer Dimension, I think that what we need here now is another mini-army to help fight off the invaders such as CM4S's, StringerReturns', and Death Star II's armies of evil!
So choose your Galidor character, but choose wisely, recruits!
Units:
Nick Bluetooth:
Jens:
Allegra:
Nepol:
TDN Module:
Shimmel:
Euripides:
Simply leave a comment saying who you would like to be, and I will add you to the list. Legoguy2805 out!
........bzzzzzz.........
Ad blocker interference detected!
Wikia is a free-to-use site that makes money from advertising. We have a modified experience for viewers using ad blockers

Wikia is not accessible if you've made further modifications. Remove the custom ad blocker rule(s) and the page will load as expected.