Hello Brickipedia! I want to tell you guys about this meme I made: "OVER THE SIDE!". In the Ninjago episode "Double Trouble", Lord Garmadon asks his Serpentine henchmen to come up with ideas on how to destroy his ninja adversaries. Whoever says a bad idea gets thrown "over the side". Basically, your supposed to say a bad idea, then have Garmadon say "OVER THE SIDE!". You can make "OVER THE SIDE!" memes on Cheezburger.com using this pic.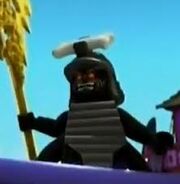 And if you do make these things, feel free to share them. You can also see these that I've already made.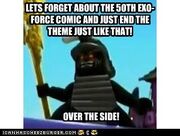 Hope you enjoy these. Oh, and keep building!
As of 11/7/2012
As of today, I will start using this picture of Garmadon to make OVER THE SIDE! memes: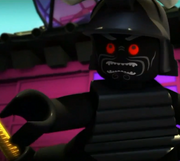 Example:
Another thing, you all are posting pretty good memes, But I'd prefer to only have OVER THE SIDE! based memes from now on since this is what the blog is mainly about.
Ad blocker interference detected!
Wikia is a free-to-use site that makes money from advertising. We have a modified experience for viewers using ad blockers

Wikia is not accessible if you've made further modifications. Remove the custom ad blocker rule(s) and the page will load as expected.