This is going to be my monthly moc entry. I'm going to retell the story, 'Twas the Night Before Christmas in LDD form. More parts will be added daily, which gives the name, "week before Christmas". My mocs have improved, please enjoy!
'Twas the Night Before Christmas
And all through the house
Not a creature was stirring
Not even a mouse
The LEGO Bricks were placed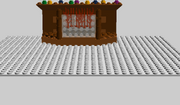 On the mantel with care
In hopes that Saint Nicholas
Would soon place more there
Ad blocker interference detected!
Wikia is a free-to-use site that makes money from advertising. We have a modified experience for viewers using ad blockers

Wikia is not accessible if you've made further modifications. Remove the custom ad blocker rule(s) and the page will load as expected.